Speaking Books
Accessible information on clinical research for illiterate populations
---
The WMA launched the speaking book on clinical trials during the General Assembly in Seoul 2008.  This project was a collaborative effort with the South African Medical Association, the SADAG (South African Depression & Anxiety Group) and the Steve Biko Center for Bioethics in Johannesburg and the publisher "Books of Hope".  The speaking book on clinical trials in English-Hindi & Telugu was launched at the 2009 General Assembly in India. The purpose of the project is to provide proper information on clinical research to illiterate populations so that they can make informed decisions about participation in clinical trials.
In March 2010, Books of Hope, with the support of Pfizer, the Chinese Center of Disease Control, the Chinese Medical Doctors Association, the Chinese Association on Tobacco Control and the World Medical Association presented a speaking book on the dangers of smoking. It targets a low literacy community, which has experienced significant increases in smoking rates over the last decades, yet can not benefit from much of the written informational products on tobacco cessation and the dangers of smoking.
Each of the impressively illustrated 16 page books, with easy-to-read text easy and/or voice on command, is expected to be received by an average of 27 people as a study has shown. Thus the first 5000 books have the potential to impact 50,000 to 100,000 people. Like the other speaking books, the newest one will also be accompanied by research analyzing its impact on health literacy.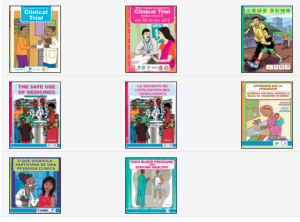 Please read the relevant articles: