WMA African Region Meeting on End-of-Life Issues
---
Start Date:
February 1, 2018
End Date:
February 2, 2018
Location:
Congress Hall, Transcorp Hilton Hotel and Towers, Maitama, Abuja, Nigeria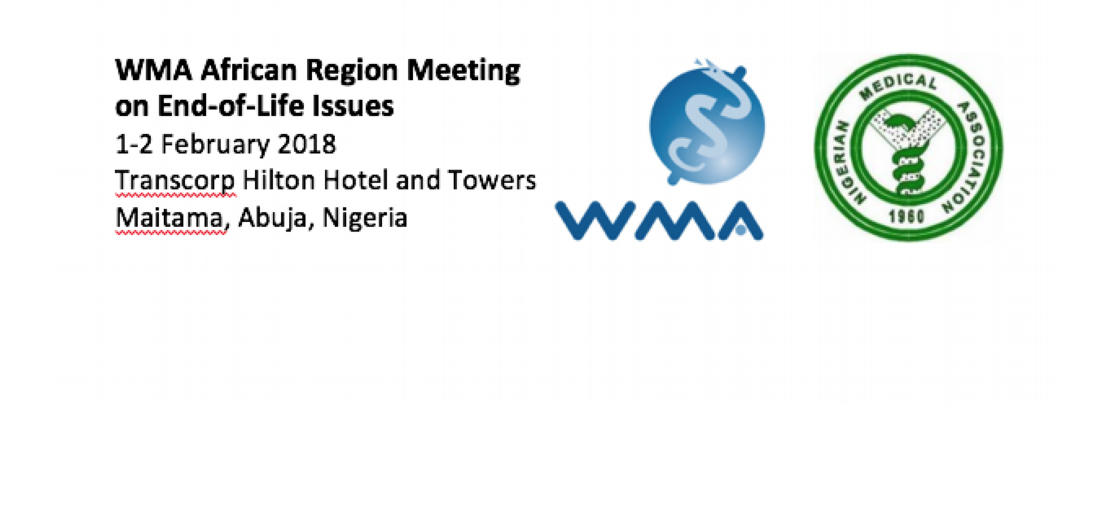 Recent World Medical Association sessions have featured dynamic discussions on euthanasia and physician-assisted dying. To explore ethical dilemmas relating to end-of-life issues on a broader scale, plans were announced to initiate regional workshops focused on these questions.
Following to the region meetings in Latin America, Asia and Europe, the Nigerian Medical Association is collaborating with the World Medical Association to host this meeting.
Theme lecture is "An excursion into the End-of-Life Spectrum: Defining the boundaries between Palliative care, Euthanasia and Physician-assisted suicide".
This two-day event will gather leading medical professionals, legal authorities, and experts in palliative care and medical ethics, to explore patient rights and treatment limitations, and to better understand public opinion regarding end-of-life questions in this region. Guest of honours from Nigeria will be:
Special Guest of Honour: President Mohammed Buhari GCFR, President, Federal Republic of Nigeria
Guests of Honour: Prof. Yemi Osinbajo, GCON, SAN, Vice President, Federal Republic of Nigeria
Chairman of the Occasion:  Sen. Dr. Bukola Saraki Senate President, Federal Republic of Nigeria
Royal Father of the Day: Alh. Abubakar Saad II, Sultan of Sokoto
Host: Prof. Issac F. Adewole, Hon. Minister of Health / Dr. Osagie Ehanire, Hon. Minister of State for Health
Chief Host: Alh. Mohammad Bello- Hon. Minister of FCT
International and regional participations can join by registering and please contact the Nigerian Medical Association. The registration fee is US$100 which will allow you to join the Welcome Cocktail, Scientific Sessions, Interactive Sessions, discussions and next steps.
RSVP:
Prof. Mike Ozovehe Ogirima President NMA   (+234 (0)8033115542)
Dr. Yusuf Tanko Sununu Secretary General NMA  (+234 (0)8032611059)
For further information: NMA National Secretariat, 8 Benghazi Street, Off Addis Ababa Crescent, Wuse Zone 4, Abuja
Provisional program will be available soon.