International Code of Medical Ethics revision: Final expert meeting
---
Start Date:
August 11, 2022
End Date:
August 12, 2022
Location:
Washington, D.C., USA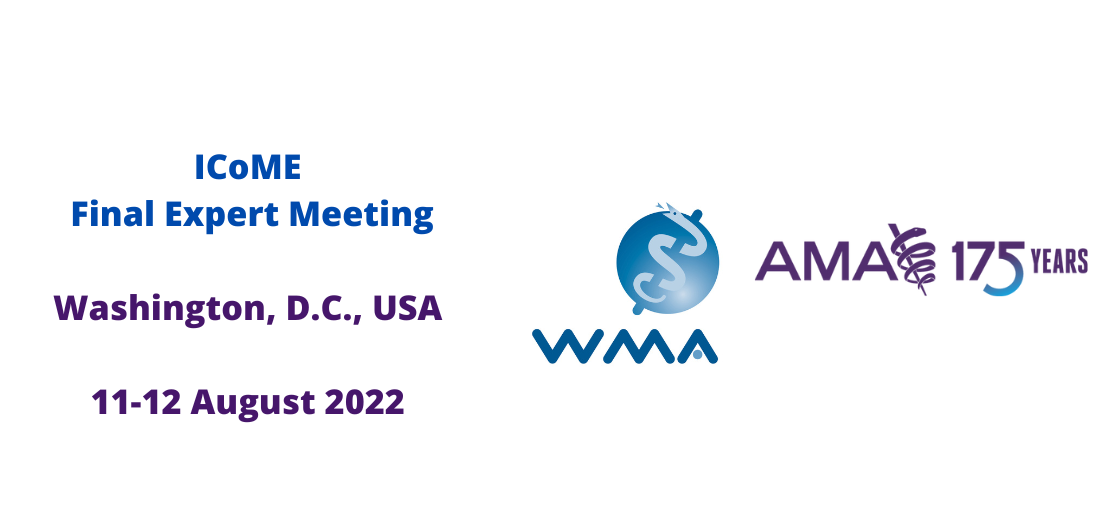 The World Medical Association invites you to attend the International Code of Medical Ethics Final Expert Meeting, which will take place on 11-12 August 2022 in Washington, D.C., USA, at the Westin Washington, D.C. City Center.
Adopted in 1949 by the World Medical Association's General Assembly, the International Code of Medical Ethics (ICoME) outlines the guidelines, norms, and central duties of the medical profession. In 2018, the WMA appointed a workgroup to begin the process of revising this seminal document.
Following a four-year revision process led by workgroup members and observers from more than 20 countries and enriched by four regional conferences, a dedicated conference on physician conscientious objection, a global public consultation, and comments from WMA members, the ICoME workgroup will present the revised draft to some of the leading minds in medical ethics for a final reality check.
Co-organized by the American Medical Association (AMA) and the WMA, this high-level discussion will provide a final opportunity to analyze the revised draft of the ICoME for thoroughness and consistency before the document is submitted to the WMA Council and, if approved, to the General Assembly for adoption. Please note that this event will be held in English, and it is open to all WMA members and invited guests. The meeting will be held in person. A virtual option is not planned at this time.
The AMA has arranged a group rate for hotel rooms at the Westin Washington, D.C. City Center. If you are planning to attend this meeting, it is important that you use the following link to reserve your room: 
The deadline for hotel reservations is July 10th.  If necessary, individual rooms may be cancelled up to 72 hours prior to arrival date at no charge.
Further information about registration and the hotel reservation procedure are available through the members' area.
Please contact the WMA secretariat at secretariat@wma.net with any questions.
We hope to see you in Washington, D.C., in August.