WMA General Assembly, London 2021 (online)
---
Start Date:
octobre 7, 2021
End Date:
octobre 15, 2021
Location:
Londres, Royaume Uni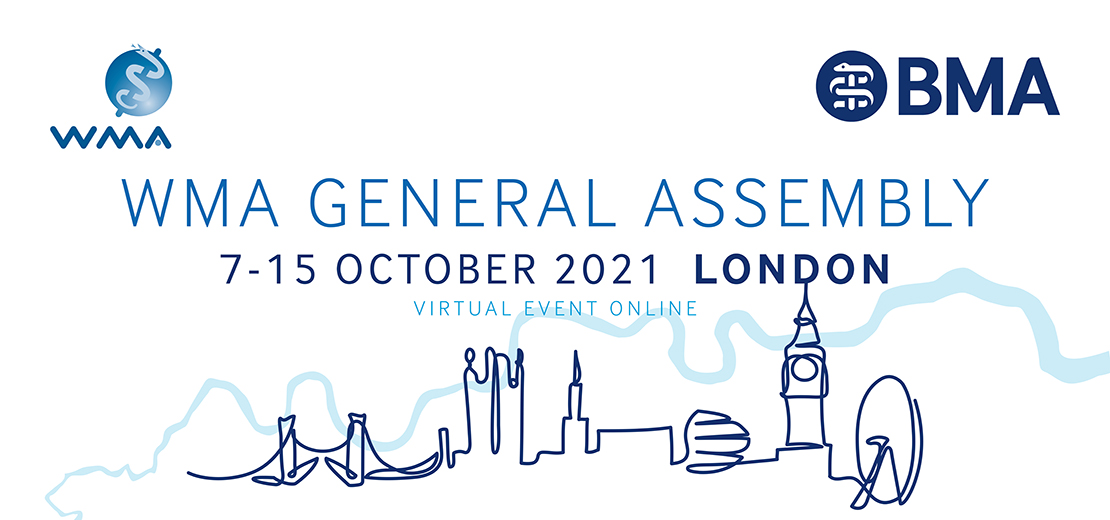 Here is the invitation by the British Medical Association. However, following the recommendation of the British Medical Association (BMA), the WMA Executive Committee (ExCo) decided to convert the General Assembly, London 2021 into online, due to the continued uncertainties and restrictions in place in response to the Covid-19 pandemic. The results of the General Assembly can be found here.
This year's scientific session was held on 7-8 October 2021, prior to the business sessions and the theme was « Global response to antimicrobial resistance, in the context of COVID-19« .
Increasing antimicrobial resistance (AMR) is a major threat to global health and the efforts to prevent its spread has reached a critical point. The added disaster of the COVID-19 pandemic, and the global response to it, has important implications for tackling antimicrobial resistance. 
Antimicrobial resistance is a global public health challenge that impacts all countries and all people. AMR infections are estimated to cause 700,000 deaths globally each year and are predicted to rise to 10 million by 2050 if no action is taken. The rise of AMR will also lead to people suffering for longer as infections become more difficult to treat. Challenges in addressing AMR, such as lack of access to clean water and sanitation, poor infection and disease prevention, poor control in health care facilities, farms and communities, and poor access to medicines and vaccines, have been exposed during the COVID-19 pandemic. 
The COVID-19 pandemic provides an opportunity to reinforce key actions which address the rise of AMR. As the world sees the consequences of not having treatments for infectious disease, a renewed focus on optimising the use of antibiotics is vital. The pandemic response has shown the importance of infection control and prevention, and the need to develop accurate diagnostics. COVID-19 has also confirmed that the environment in which humans and animals interact has an impact on health outcomes, illustrating the need to take global action through a One-Health approach. The handling of future pandemics will need all actions that are aimed at slowing down the development of AMR to be firmly in place.
Program
Welcome address:  Dr David Barbe, President, WMA
Opening remarks:  Dr Chaand Nagpaul CBE, Chair of Council, BMA
Chair: Prof. Dame Parveen Kumar, Chair of Board of Science, BMA
Session ONE: Harnessing international cooperation to tackle antimicrobial resistance globally (Recording is available here)
Keynote addresses:
Q&A session
Panel discussion
Q&A session
Session TWO: Lessons learned from Covid19 (Recording is available here)
Chair: Prof. Dame Parveen Kumar
Keynote addresses:
Q&A session
Panel discussion
Q&A session
Conclusion and close